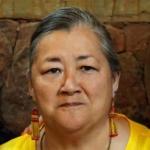 Grandmother SaSa (Swan of the North)
Founder of The Rose and The Swan Healing Center for Healers
Grandmother SaSa was born in central Maine to a father of Abenaki/Scottish/Irish descent and to a Japanese mother. While growing up, she realized her gifts as a seer, a dreamer and a healer. Grandmother SaSa studied with an honored elder, Cherokee medicine woman Grandmother Nakai Breen, Rose of the River and Beloved Woman of the People, for 20 years learning how to remember the things she already knew and receiving new teachings.
Grandmother SaSa currently lives in West Ossipee, New Hampshire where she founded, inspired by a vision, The Rose and The Swan, a center dedicated to healing the healers. The center is operated by donation only and no one is ever turned away. Twice a year, on the first Saturday of every June and every October, Grandmother holds a Medicine Hoop of Life ceremony that was passed on from Grandmother Nakai. 
Grandmother SaSa lives with her husband, Terry, of 48 years, and with assistance from five helpers, also conducts sweat lodges, pipe ceremonies, and the teachings of beading in the Traditional Way. She continues to work with trauma of the generations, gifted children, adults with brain trauma, the Crystal Earth Project and has traveled the globe to share teachings, conduct sacred ceremonies and assist with healing when asked. In May of 2018, Grandmother was honored to join grandmothers and elders from around the world to share wisdom at the Gathering for Humanity event in Santa Fe, New Mexico. In 2016, Grandmother SaSa was recognized for her humanitarian work when she was named as one of the first recipients of the Tribal Trust Foundation Grandmother/Elder Fellowship Fund administered by the Women's Voices Project.
Sessions with Grandmother SaSa (Swan of the North)
(1)
Prophecies and Stories of a Healer
Broadcast on October 08, 2018
With Grandmother SaSa (Swan of the North)
Grandmother Sasa (Joyce Bryant) shares prophecies, and the powerful stories of how she met her teacher and came to own the home that is now her center in New Hampshire for healing healers.