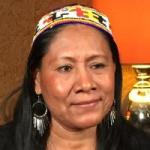 Irma Caisamo
Irma Caisamo was interviewed live at the Indigenous Summit of the Americas (Cumbre de Abya Yala) in Panama City, Panama in April 2015.
Sessions with Irma Caisamo
(1)
The Language of Plants and People
Broadcast on November 19, 2015
With Irma Caisamo
An accomplished healer and mother of 10, Irma learned about healing from her mother and grandparents. They taught her to talk to the Creator and talk to the plants - and listen to them! In this wonderful talk, she shares many details about what it means to be Emberá and about her healing work. She also shares an important message for the world: that we're all children of the Creator without distinction of race, and that we need to love ourselves and all of nature. Indigenous people, she says, are the ones who will save the rest of the world by teaching people how to live in harmony with nature.