The Harmonious Resolution for Mother Earth
Broadcast on November 17, 2015
Hosted by Phil Lane
With Forrest Cuch
How can we identify harmony that will ultimately lead to healing Mother Earth? Join Ute Tribe member and Co-Founder of Rising American Indian Nations Forrest Cuch, as he defines a solution rooted in courageous dialogue and generous listening. Forrest also explores the aspect of the healing through the re-emergence of female energy to balance the male energy that has been dominant in our more recent past. Creating alignment and balance between the masculine and feminine energy — individually, culturally, globally.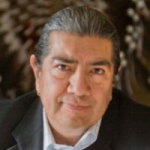 Forrest S. Cuch is an enrolled member of the Ute Indian Tribe. He was born in 1951 and raised on the Uintah and Ouray Ute Indian Reservation in northeastern Utah. In 1973, he graduated from Westminster College with a Bachelor of Arts Degree in the Behavioral Sciences.  During his 38 year career, Forrest has held many challenging jobs beginning as education director for the Ute Indian Tribe. He has also served as tribal planner/administrator for an eastern tribe and social studies department head and teacher for his alma mater, Wasatch Academy, Mt. Pleasant, Utah. Forrest was executive director, Utah Division of Indian Affairs. During this time, he published, A History of Utah's American Indians, Utah State University Press, 2000. Forrest is Co-Founder of Rising American Indian Nations (RAIN), an Indian operated non-profit organization established to empower American Indian people while promoting health and sustainability.
He currently is engaged in working with spiritual leaders through the Western Hemisphere to usher in the new shift in feminine conscious known of as the New Earth and calling attention to Climate Change and pollution of Mother Earth. Of note, Forrest was first introduced to environmental considerations when he was planner for the Wampanoag Tribe of Aquinnah, Martha's Vineyard, MA. As planner, he worked closely with the Wampanoag Tribal Council to implement eco-friendly concepts such as green construction, and sustainability. Forrest was a board member of Pax Natura (2002-2015), a non-profit organization founded in 1996 to help preserve tropical rainforests throughout the world. Forrest is also an honorary board member of the Swaner EcoCenter, a non-profit organization and home to a 1200 acre Nature Preserve as well as a new, LEED Platinum, nationally acclaimed green building. The EcoCenter located in Park City, Utah, is a symbol of the Swaner families' ideals and values, and a powerful expression of their relationship to the environment.