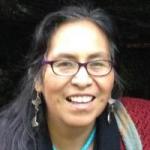 Woman Stands Shining (Pat McCabe)
Bringer of Teachings from Indigenous Perspective on Sustainability & for Women
Woman Stands Shining (Pat McCabe), international speaker, activist, and artist, was born into the Diné Nation (Navajo), and was adopted into the Lakota Spiritual way of life. She lives in northern New Mexico where she raised five children. She is an articulator of visions and dreams and symbols as the language of spiritual helpers reaching out to humanity, she is an enactor of Spiritual counsel, she is a passionate daughter of the Mother Earth, and an upholder of Mother Earth's Authority at this time. She speaks, prays, and loves internationally, fully claiming her global citizenship. Current investigations for the healing of the Five-Fingered-Ones are: our use of western science practices, and esoteric practices to participate in Cause and Effect, the deep spiritual gift of our consent as activism, and the reconciliation between Men's Nation and Women's Nation for functional polarity and Thriving Life.
Sessions with Woman Stands Shining (Pat McCabe)
(1)
Drawing from the Sacred in the Healing of Humanity
Broadcast on October 08, 2018
Hosted by Shawna Bluestar Newcomb
With Woman Stands Shining (Pat McCabe)
Woman Stands Shining, Pat McCabe brings profound awareness to the archetypal wounds of humanity, and a deeper understanding of Indigenous spirituality with the foundation of beauty, the power of women, and a new language for the sacred masculine.