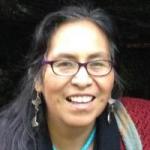 Woman Stands Shining (Pat McCabe)
Bringer of Women's teaching from Indigenous ways of knowing, Sustainability Coach from Indigenous Perspective, Founder of Joy House, School for Unlearning
Woman Stands Shining, Pat McCabe, has the honor of being of the Diné (Navajo) Nation. A Life-Bringer, Life-Bearer Mother, writer, artist, activist, speaker and cultural liason, her work is driven by the study of the Science of Right Relations. Moving from the central knowledge that we, the five-fingered-ones, are born into beauty, as beauty, for joyful life, she brings the understanding of Indigenous ways of knowing into discussion and inquiry on sustainability. Born to a People who have deep understanding and methodology for Restoration, she carries the Beauty Way into places where it has formerly been kept out. She is an active participant in Indigenous Peoples gatherings worldwide most recently in Chile, Belgium, Ecuador, Peru, Mexico and Bali. She has worked with the International Center for Cultural Studies in India and with Sarvodaya with Dr. A.T. Ariyaratne in Sri Lanka, as well as with organizations and gatherings in the U.S. Her recent work includes being a cultural consultant to the Pachamama Alliance, Inner Circle Invitee to the Language of Spirit Dialogue - Dialogue between Quantum Physicists, Linguists, Scientists and Indigenous knowledge keepers. Upcoming work includes the AUM National gathering, Women's teachings In Chile, and work with Israeli and Palestinian women.
Sessions with Woman Stands Shining (Pat McCabe)
(1)
Drawing from the Sacred in the Healing of Humanity
Broadcast on October 08, 2018
Hosted by Shawna Bluestar Newcomb
With Woman Stands Shining (Pat McCabe)
Woman Stands Shining, Pat McCabe brings profound awareness to the archetypal wounds of humanity, and a deeper understanding of Indigenous spirituality with the foundation of beauty, the power of women, and a new language for the sacred masculine.