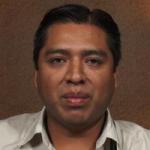 Miguel Villca Tapanache
 Miguel Villca Tapanache was interviewed live at the Indigenous Summit of the Americas (Cumbre de Abya Yala) in Panama City, Panama in April 2015.
Sessions with Miguel Villca Tapanache
(1)
Justice in Bolivia Indigenous Fellowship Around the World
Broadcast on November 19, 2015
With Miguel Villca Tapanache
Even though Bolivia is the first modern nation to have an Indigenous president, there are still complicated problems to unravel to ensure justice and the right to self-determination for Indigenous Peoples there. Miguel carries important perspective and a special message for his Indigenous brothers and sisters around the world.