Prophecy Spiritual Perspectives and the International Treaty to Protect the Salish Sea
Broadcast on November 20, 2014
Hosted by Phil Lane
With Sun Dance Chief Rueben George
Sun Dance Chief Rueben George, grandson of Chief Dan George, will speak about protecting the Salish Sea, the network of coastal waterways located between the northwestern tip of Washington State and the southwestern tip of British Columbia. He will address why action is needed now and exactly what is needed.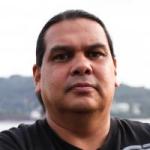 Director of Community Development for the Tsleil-Waututh Nation, Indigenous Community Organizer, and Spiritual Leader
Sun Dance Chief Rueben George of the Tsleil-­Waututh Nation is an Indigenous community organizer and spiritual leader. He is a Sun Dance Chief and the grandson of Chief Dan George, the Oscar nominated and universally respected First Nations spiritual leader. Rueben started his career by founding and creating Dukes Youth Healing Centre 19 years ago. Rueben learned very quickly that the foundation for his success in his work would be his culture and spirituality. Rueben's grandfather taught him "anything you learn in college or university on healing there is a First Nation teaching that says the same thing." Based on the teachings of his elders, Rueben created a reference library of successful psychological healing programs and translated them into First Nation's culture and spirituality. As well as being a Sun Dance Chief Pipe Carrier and sweat lodge leader, Rueben is an active participant in his Coast Salish Winter Spirit Dancing Ceremony.
Rueben has worked across Canada and the United States facilitating workshops on healing and wellness. In every project Rueben works on, he is sure to incorporate his culture and spirituality. In his present position as director of community development for the Tsliel-Waututh Nation, Rueben oversees the education, social services, employment and training, youth and Elders programs, family support programs and the Tsliel Waututh Nation Daycare and Early Childhood Learning Centre. Chief Rueben assures that the foundation of all community development programs are Tsliel-Waututh Nation culture and spirituality. Chief Rueben, on behalf of his First Nation, is co-­coordinating the fight against the Kinder Morgan proposed tar sands oil pipeline and tanker expansion into Vancouver Harbour, the unceded Traditional Territory of the Tsliel-­Waututh Nation. This pipeline route is currently the only way this dirty oil from the Alberta Tar Sands is making its way from Canada to new markets in China and the Pacific  region. This fight has significant  implications for Indigenous global sovereignty, climate change and the future of the global oil economy! As Chief Rueben always says, "The roots of who we are, are stronger than anything we have been through or will go through in the future!"