A Childhood Initiation and Call to Action
Broadcast on October 08, 2018
With Grandmother Flordemayo
Mayan Grandmother Flordemayo shares details of her childhood — that she was born knowing that she's "a child from the stars, made of light, walking here on Earth," and about how she was initiated. She also tells of how she was called to construct a seed temple in New Mexico, where she lives.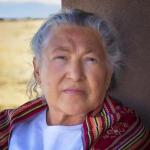 Universal Healer, Visionary, Dreamer
Grandmother Flordemayo was born and grew up in the highlands of Central America in a family of Mayan healers and raised by her mother, a midwife. She travels the globe to share her healings and to foster a more spiritual understanding among humanity. She has been a founding member of the Confederation of Indigenous Elders of the America, Institute of Natural and Traditional Knowledge, International Council of Thirteen Indigenous Grandmothers and The Path.