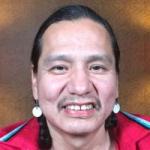 Darcy Demas
Darcy Demas was interviewed live at the Indigenous Summit of the Americas (Cumbre de Abya Yala) in Panama City, Panama in April 2015.
Sessions with Darcy Demas
(1)
The Power and Purpose of Song
Broadcast on November 19, 2015
With Darcy Demas
In this wonderful session Darcy tells the story of song and dance of his people, and even blesses us with a few of the 1,000 songs he knows. He shares that for the Dakota, every word and every song has a meaning and a purpose. Like so many others in this Summit, he opens up about nature as being so central to life, and how he sees that Indigenous people around the world are the same in so many ways.