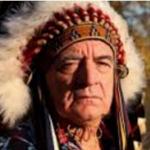 Brother Phil
Chairman-Four Worlds International Institute Global Leader in Indigenous Dev.
Brother Phil, Hereditary Chief Phil Lane, Jr. is a member of Yankton Sioux Tribe and Chickasaw Nation. For over 50 years, Phil has dedicated himself to working with Indigenous peoples from across the Americas, South East Asia, India, the Pacific and Africa to in human, community, and economic development with a unique focus on the importance of culture and spirituality in all dimensions of development. In 1982, with elders from across North America, Phil co-founded the Four Worlds International Institute (FWII) — an organization that transcends assimilation, resignation and conflict by building partnerships with all nations and peoples. Thanks to Phil's leadership, FWII is deeply contributing to the unification of the human family by co-creating community-based, culturally-respectful, principle-centered strategies and programming.
In 1992, Phil was the first Indigenous person to win the prestigious Windstar Award, for being "a global citizen whose life exemplifies commitment to a global perspective, operates with awareness of the spiritual dimension of human existence and demonstrates concrete actions of the benefit for humans and all living systems of the Earth." In 2000, he received the International Award for Freedom and Human Rights from the Foundation for Freedom and Human Rights in Berne, Switzerland. Chief Phil Lane, Jr. served 16 years as Associate Professor in Indigenous Education at the University of Lethbridge, is an award-winning author and film producer, and holds Masters degrees in education and public administration.
Sessions with Brother Phil
(3)
Rosebud Sioux Tribe Declares Keystone Pipeline Approval Act of War Background and Game-changing Response
Broadcast on November 18, 2014
With Brother Phil
In this session Chief Phil Lane, Jr. will discuss the importance of moving toward alternative energy together with allies, because it is the only way to demonstrate to the human family around that there is another way besides our dependence on petroleum.
Opening ceremony 2018
Broadcast on October 08, 2018
Hosted by Shawna Bluestar Newcomb
With Brother Phil
Opening the sacred space for the day are spiritual guide and women's mentor Shawna Bluestar Newcomb, and Hereditary Chief Phil Lane, Jr., who has worked with Indigenous peoples for more than 50 years and is the chairperson of the Four Worlds International Institute. Hereditary Chief Phil Lane, Jr. shares a deep blessing and invocation for all good things for all relatives.
Closing Words
Broadcast on November 20, 2014
With Brother Phil
Chief Phil Lane Jr. will close out the Global Indigneous Wisdom Summit with a summary and actions regarding Keystone Pipeline.