The Prophesied Time of the White Animals and Sacred Teachings of the White Buffalo Calf Pipe
Broadcast on November 18, 2014
Hosted by Phil Lane
With Chief Arvol Looking Horse
Chief Arvol Looking Horse shares that we have to get back to a spiritual way of living in harmony with all life. Leaders need to reflect the qualities of health, wellness and walking a good way of life. He shares the sacred teachings of the white buffalo calf woman, including the importance of living from the heart and the call to protect the sacred.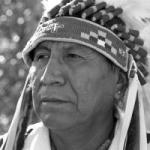 Spiritual Leader, Board Member of the Society of Peace of Prayer
Chief Arvol Looking Horse was born on the Cheyenne River Reservation in South Dakota in 1954. Raised by his grandparents Lucy and Thomas Looking Horse, he learned the culture and spiritual ways of the Lakota. He speaks both Lakota and English. At age 12, he was given the enormous responsibility of becoming the 19th generation Keeper of the Sacred White Buffalo Calf Pipe, the youngest in history. His life has revolved around his commitment to work toward religious freedom, cultural survival and revival. He is featured in an organization promoting heroes for peace and justice with the organization Heroes for a Better World.
In 1986, the Bigfoot Riders, of which Chief Looking Horse is a spiritual leader, began fulfillment of a prophecy, known as "Mending the Sacred Hoop of the Nation." Chief Looking Horse honors the healing journey by riding with the Bigfoot Riders by horseback every December 15-29 in severe temperatures, which all the committed Bigfoot Riders endure to understand the immensity of the hardship of Chief Bigfoot and his band. In 1993, Chief Looking Horse traveled to New York with elders of different nations for the United Nations' Cry of the Earth Conference where he did the opening prayer. The Unrepresented Nations & Peoples Organization invited him to Holland to pray for peace and unity in 1994. New Orleans honored Chief Looking Horse by proclaiming August 27 as White Buffalo Day, and he was given the key to the city by the mayor in 1996. He was also awarded the prestigious Canadian Wolf Award in 1996, given to a person who has dedicated their life to working for peace. The first award was presented to Nelson Mandela, the President of South Africa.
Since the early 90s, Chief Looking Horse has been on the Board of the Society of Peace of Prayer that plants Peace Poles around the world, carrying the inscription "May Peace Prevail on Earth" in four different languages. In October 2006, he was awarded with the Temple of Understanding — Joliette Hollister Award from the United Nations. Some previous recipients of the award include the Dalai Lama, Nelson Mandela and Queen Noor, for their work in uniting different nations in the name of peace.