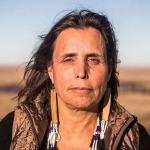 Winona LaDuke
Winona LaDuke, member of the Ojibwe tribe is an American Indian activist, environmentalist, economist, and writer, known for her work on tribal land claims and preservation, as well as sustainable development. In 1996 and 2000, she ran for vice president as the nominee of the Green Party of the United States, on a ticket headed by Ralph Nader. She is the executive director of both White Earth Land Recovery Project, which she founded at White Earth Reservation in 1989, and Honor the Earth, which she founded with Indigo Girls Amy Ray and Emily Saliers in 1993. Born in Los Angeles and raised in Ashland, Oregon, she was enrolled in the tribe at an early age, but did not live at the White Earth Indian Reservation until 1982. She started work there after college as the principal of a high school. Winona became an activist in Anishinaabe issues, helping to found the Indigenous Women's Network in 1985. She became involved in continuing struggles to regain reservation land lost since in the nineteenth century. The WELRP holds land in a conservation trust for the benefit of the tribe.
Sessions with Winona LaDuke
(1)
The Prophecy of the Seventh Fire and the Choice of The Green Path
Broadcast on November 20, 2014
Hosted by Phil Lane
With Winona LaDuke
Winona discusses how now is a time of change and transition from the path of consumption to a path of responsibility and renewal for our Mother Earth.