The Melting of the Big Ice
Broadcast on November 19, 2014
Hosted by Phil Lane
With Angaangaq Angakkorsuaq
Angaangaq will tell profound stories about the wisdom of his grandmother, including how she taught him how to "melt the ice" in people so that they could wake-up and change. He will bring into the light of truth the shocking situation with the melting of the polar ice caps in his native Greenland, where the land is rising as the ice melts and the rivers flow. To address these problems, he will share how we can awaken to the recognition of all races being equal and the symbolism of the circle in indigenous tribes.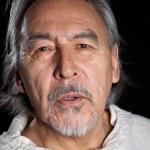 Shaman, Elder, Teacher, Healer, Storyteller
Angaangaq Angakkorsuaq (Uncle) is from the Far North - Greenland. He was trained by his Grandmother to become the next shaman. In 2004, after years of being the runner for his Elders, bringing the message of the Melting of the Ice to the world, he accepted the immense responsibility of being a Shaman. His work, Melting the Ice in the Heart of Man, has taken him to five continents and over 69 countries around the world. He has been a keynote speaker at international conferences on Climate Change, Environmental and Indigenous Issues. He has represented the Arctic peoples in the United Nations General Assembly, he speaks before governments, at universities, forums and summits. He has been featured in many documentary films. He leads Healing Circles, Intensives and traditional Sweat Lodges. His work throughout the world has taken him to native villages, to schools, senior homes, to prisons and businesses.
His teachings are from the Eskimo-Kalaallit people, a peaceful culture thousands of years old that has never known war. The teachings are rooted in the oral tradition of his people and summon us to bridge the distance from our minds to our hearts, bringing about personal transformation and global healing for the times to come. Angaangaq was called by his people to bring home the Sacred Fire to Greenland. In July 2009 Elders and Spiritual Leaders from Zimbabwe, New Zealand, Siberia, from the Amazonia, Bolivia, Peru from Nepal, Japan, Africa, North America and Europe made their way to an ancient sacred site on the Top of the World, fulfilling a prophecy so old that no one knows the time.