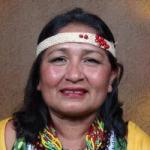 Dalia Herminia Yanez
Dalia Herminia Yanez was interviewed live at the Indigenous Summit of the Americas (Cumbre de Abya Yala) in Panama City, Panama in April 2015.
Sessions with Dalia Herminia Yanez
(1)
Comparisons of Indigenous and Colonized Life
Broadcast on November 19, 2015
With Dalia Herminia Yanez
Dalia shares from her heart, about the consequences of the compromises that colonization has created between western civilization and Indigenous communities. Being a representative of the Commission of Indigenous and Ethnic Populations in Venezuela and a Warao community elder, gives her a unique perspective from which she draws beautiful analogies between nature and people and shares her meaning of true wealth.