Healing Global Wounds
Broadcast on November 18, 2015
Hosted by Phil Lane
With Nana Ohemaa Agyiriwa, II, Dr. Barbara C. Wallace
Discover the global healing that's possible with Professor, Nana Ohemaa Agyiriwa, II, Dr. Barbara Wallace. Dr. Wallace discusses the massive global stress disorder that we're experiencing in this time and the important healing that's needed. She explores the history leading up to this experience of global PTSD and identifies ways to repair this deep wounding. Dr. Wallace defines a position of love, light and compassion as the key to healing our wounds, raising our consciousness and helping Mother Earth.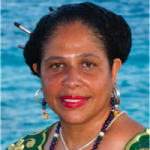 Professor of Health Education, Enstooled Abradehemaa
Nana Ohemaa Agyiriwa, II, Dr. Barbara Wallace is a psychologist, tenured professor of health education, and coordinator of the programs in health education and community health education within the Department of Health and Behavior Studies, Teachers College, Columbia University. In addition, Dr. Wallace is director of health equity for the Center for Health Equity and Urban Science Education (CHEUSE), director of the Research Group on Disparities in Health (RGDH), as well as director of Global HELP – Health Education Leadership Program.
For her outstanding and unusual contributions to the field of psychology, Dr. Wallace has been honored with the status of Fellow within both Division 50 (Addictive Behaviors) and Division 45 (Society for the Psychological Study of Ethnic Minority Issues) of the American Psychological Association. She is founding director of the Annual Health Disparities Conference at Teachers College, Columbia University held in early March. She is also editor-in-chief of The Journal of Equity in Health. In addition, Dr. Wallace is author of Making Mandated Addiction Treatment Work (2005, Rowman and Littlefield) and editor of Toward Equity in Health: A New Global Approach to Health Disparities (2008, Springer Publications)—as two of her most recent acclaimed publications. Finally, she is the Abradehemaa of Larteh-Kubease, Ghana (a.k.a. the Queen Mother, Nana Ohemmea Oparebea Agyiriwa, II).