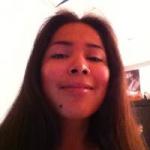 Paloma Flores
Program Coordinator for the San Francisco Unified School District's Indian Education Program
Paloma Flores is the program coordinator for the San Francisco Unified School District's Indian Education Program, Title VII which serves American Indian/Native Alaskan students in Kindergarten-12th grade and their families to ensure they receive support from a culturally and linguistically responsive framework and pedagogy. Her prior work as a Youth Coordinator at the Native American Health Center in San Francisco, CA, was responsible for implementation and operations for youth and family activities focused on youth development and overall wellness. At SFUSD's Indian Ed. Program's Indian Education Center where she manages program development for an array of services that support American Indians students by working with the school district, the city, and the Native American Bay Area community at large. She is a Recipient of the Native American Incentive Award at the University of California, Berkeley where she studied Native American Studies and Ethnic Studies.
Sessions with Paloma Flores
(2)
Being Leaders of Greater Understanding and Action
Broadcast on November 17, 2015
Hosted by Phil Lane
With Paloma Flores
Youth organizer Paloma Flores calls us to be leaders of change, knowing the fullness of our identity as interconnected extensions of Mother Earth. As we wake up, we have the opportunity to use technology for the benefit of all, or for distraction. Aware of the larger mission and responsibility that is emerging, the youth can use national and international forums to guide the process of awakening. We are living the prophecy of the Condor and the Eagle, moving from a time of the masculine and the industrial toward a time that in which being heart centered and intuitive. As long as our words and actions are aligned with the truth, we can move mountains.
Click here to download an archive of all Global Indigenous Wisdom Summit 2015 audio recordings.
Voices of the 7th Generation
Broadcast on July 02, 2013
With Chief Arvol Looking Horse & Deloria Many Grey Horses & Ta'Kaiya Blaney & Paloma Flores & Xiuhtezcatl Martinez